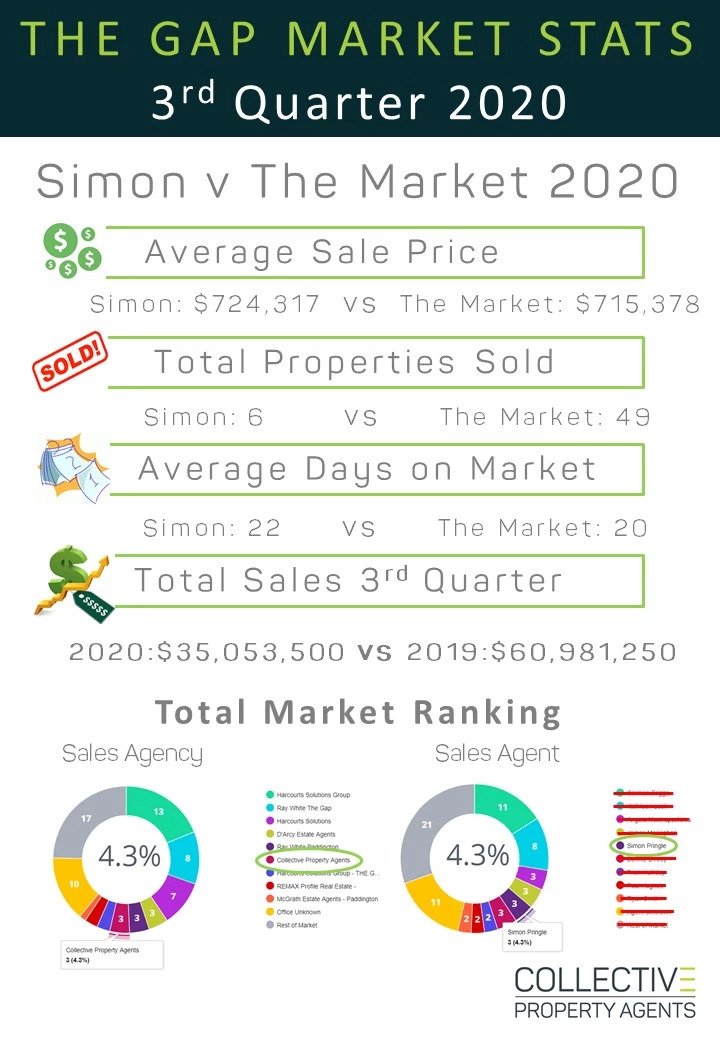 It's a really interesting comparison given the physical properties for sale has nearly halved and the value 2019 vs 2020 for The Gap is dramatically down as a result of those missed sales opportunities of course!
The average sale price growth over the last 24-36months has been strong as a result of the growing popularity of The Gap. As the last 6-7months has shown such an uncertainty to the selling market, it's shown quite the opposite to the buying market with interest rates at an all time low and the lack of property to buy has certainly shown keen competition!
The average time spent on market is certainly a lot less than the same time a year ago or expected by the punters! The rule of thumb in our office is – you'll meet your buyer in the first 2 weeks of the campaign! To this point, the property must be on it's best attention for all advertising platforms and ready to react!
With Spring upon us, the market has certainly picked up a little, still not anywhere were it would normally be in terms of actual property sales but again, stronger! Encouragingly the level of buyers hasn't changed! We're still experiencing stronger that normal open home numbers equating to competitive prices being paid throughout the market, the term 'Sellers' Market' couldn't be truer! With that said, inviting left over buyers from other successful open homes, with similar attributes, size and value has really been stimulating that 'Off Market' opportunities! The average number of buyer groups at the open homes over the last 6 weeks have been 14 & 18 groups compared to 6 & 8 groups in July & August. My results recently in The Gap high end market – $1.2-$1.4m, have been outstanding, low days on market and strong results.
Thanks for taking the time and as always, please let me know if there is anything specific I can help with or if you'd simply like an updated sales comparison sent through.